---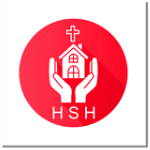 Miller Veteran's House Ribbon Cutting Dedication Service Program
1116 W. Laurel, Independence KS 67301
August 25th, 2022 – 11:30 AM
(Set up your lawn chairs facing the front porch under the cedar trees.)
Welcome – Chris Mitchell (Director of HSH Homeless Ministry)
Ribbon Cutting Ceremony – Lisa Wilson (President and CEO of Independence Chamber)
Flag Pole Dedication – Kathy Shepard (Senior Vice President of VFW Post 1186 Auxiliary, Independence KS)
Raising of the Flag – Combat Veterans (Led by Commander Bruce Clemens of Post 1186 Auxiliary, Independence, KS)
Singing of the Star Spangled Banner and Leading of the Pledge of Allegiance – Warren Townsman (First Presbyterian Choral Director, Independence KS)
HSH's Mission -Debbie Malone (President of HSH and Employee of Four County Mental Health)
Introduction of Directors, Staff, Volunteers and Miller Family – Jürgen Hanke, Project Manager (Miller Family – Ruth (Miller) and Jürgen Hanke; Jeanette and Mark Miller; and Leah (Miller) and Jeff Mosley
Closing Remarks and Original Arrangement of Amazing Grace – Chris Mitchell (Director of HSH Homeless Ministry)
Open House with Refreshments
Porch Concert Sponsored by Phillips66 Community Grant – Nathan Conner (Video and Website Developer, Composer, Musician, Singer, Recording Studio in Cherryvale, KS. www.worshipcalling.com)
*****
Thank You for Attending and don't forget to take your Lawn Chairs home with you!!
Have a great day and Veterans thank you again for your service!!!
*****
Home, Sweet, Home
HSH Homeless Ministry, INC
www.homelessministry.org
---
How Can You Donate to Home, Sweet, Home?
DONATE BY VOLUNTEERING:
HSH accepts volunteers for: Mentoring, House Supervision, Maintenance, Fundraising, Board Membership, and associated relevant activities. For more information call the Director @ (620) 331-5115 and ask for Chris or send an email to hshministry@gmail.com
DONATE FOR A FINANCIAL TAX DEDUCTIBLE DONATION USING A CHECK:
Send to: HSH Homeless Ministry, Inc.
P.O. Box 315
Independence, KS 67301
(HSH is a not-for-profit organization with 501(c)(3) status. Its EIN is 81-4589851. You will receive a prompt donation receipt.)
DONATE FOR A FINANCIAL TAX DEDUCTABLE DONATION USING ANY CREDIT OR DEBIT CARD:
Please donate by using any credit or debit card. Go to www.homelessministry.org. Click on the yellow "Donate" button. Follow prompt. Upon completion of your donation you will receive instantly a donation receipt which will be sent to your email account.
DONATE FOR A FINANCIAL TAX DEDUCTABLE GIFT IN-KIND
*****
How do I contact HSH?
Our office is located at: The Community Access Center
307 W. Pecan Street
or P.O. Box 315
Independence, KS 67301
Contact
Phone: (620) 331-5115 Ask for Chris Mitchell
Fax: (620) 331-3897
Email: hshministry@gmail.com
*****
What is your website address?
www.homelessministry.org
---
VOLUNTEERS, DONARS AND AGENCIES FOR MILLER VETERANS HOUSE
Kathy Shepard Senior Vice President of VFW Post 1186 Auxiliary Independence KS – Gift of 20ft Flag Pole with Solar Light
Dean Hayse Mayor and President of CMIH Community Mission for Improved Housing (All Painting Outside, Yard Cleanup and organized the Cessna involvement
Cessna Beechcraft – Volunteers Beechcraft Donated: Paint, Supplies, Food, Paid Employees their wages to volunteer.
April (Winton 1983) Nutt Executive Director of Housing Authority Independence KS – Organized Lift from Woods Lumber for Painting and City Coordination Support
City of Independence Municipalities
Paul Lemon – of Plum-Crazy Plumbing (All plumbing and moving of toilet, sink and shower.)
Brian Beechum – Lee's Cooling and Heating (Central Air and Heat plus Duct Work)
Mark Woods – Woods Lumber Supplies
Steve Schicke – All indoor painting sprayed
Rob Eisenhart – Rob Eisenhart Construction (All Laminated Flooring)
Dr. Jim and Joyce Dawson – Retired Professors Pittsburg State University, Pittsburg KS
Jon Viets – HVG Resources LTD Independence KS (Donation)
Lisa (Muse 1984) Wilson – President/CEO (Ribbon Cutting, Promotions and Radio Interview)
Chris and Jaci (Kawulok 1983) Gorman – Furniture, Paint, interior design Donations; works for Nest Interiors and Kings Antiques
Chris (1975) Morel – Furniture
Tonda (1983) Lawrence – Miss Management Professional Domestic Assistant (Furniture, Painting and Cleaning)
Rhonda (Augustine 1983) and Chris Bromley – Furniture
Tom Gillman (Bathroom Construction, Flooring, Basement Support and Daily Handyman Work)
Leah (Miller 1983) and Jeff Mosley – (Donation)
Jeanette and Mark (1978) Miller (Donation)
Ruth (Miller) and Jürgen Hanke (Donation)
Carl Schwatkins (Indy School Teacher) – Handy Man, Maintenance and Painter
Doug (1982) Harlin – VFW Post 1186 Auxiliary Independence KS Appliance and Furniture
Phillips66 – Sponsored concert on the porch and video taping of the event.
---
Please, listen below to KGGF's interview with Home, Sweet, Home Director Chris Mitchell, Ruth Hanke HSH Webmaster and Volunteer, and Hannah Risener HSH Vice-President and Directors Liaison for Women; on the Ribbon Cutting and Dedication of the new Miller Veteran's House on August 24th, 2022 at 11:30, 1116 W. Laurel Street, Independence KS 67301.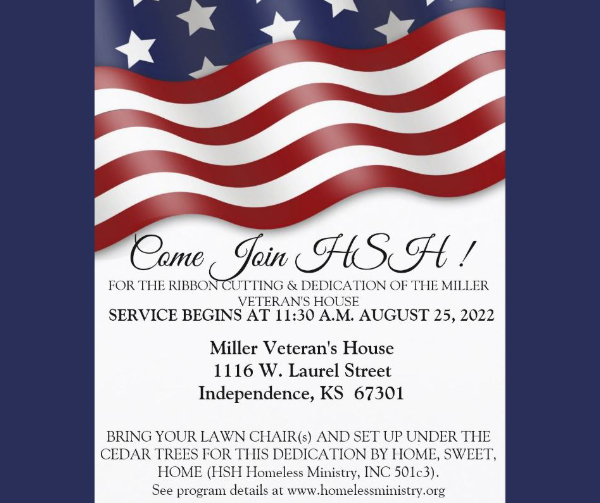 Led and coordinated by Dean Hayse President of CMIH, the painting project of the Miller Veterans house by the Cessna/ Beechcraft team was an enormous success. It's part of Love Independence Day activities, and we were fortunate to be one of the selected houses.
Thanks again to April Nutt, Independence Municipalities, Dean Hayse, CMIH and all the Textron affiliated volunteers!
---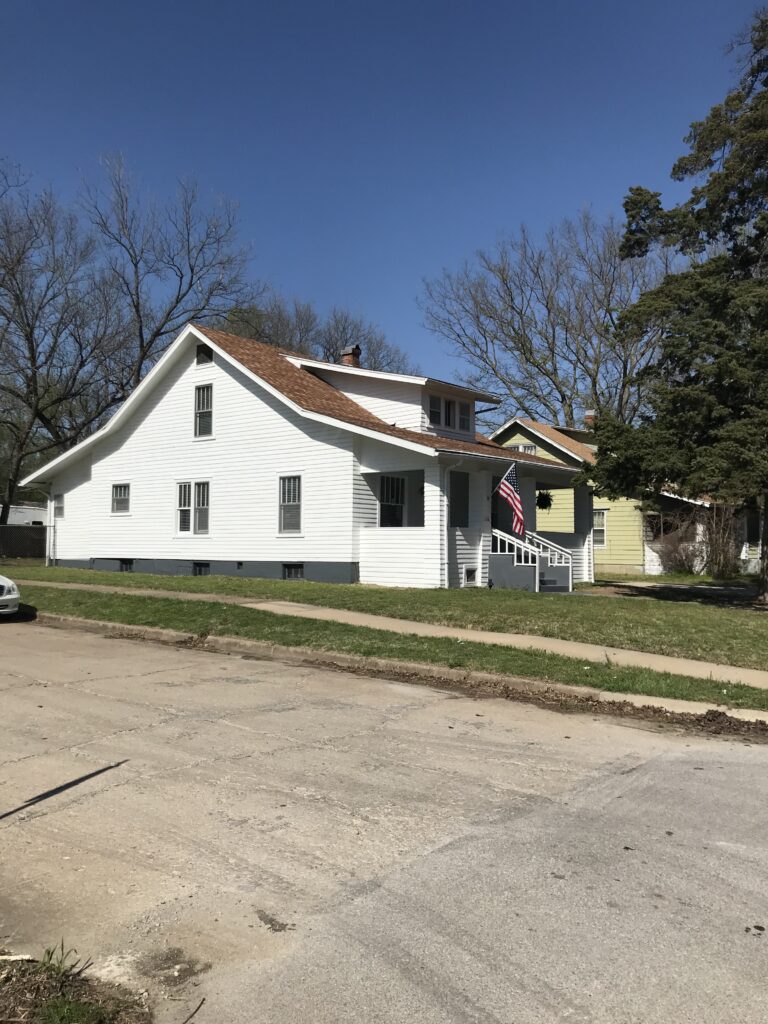 ---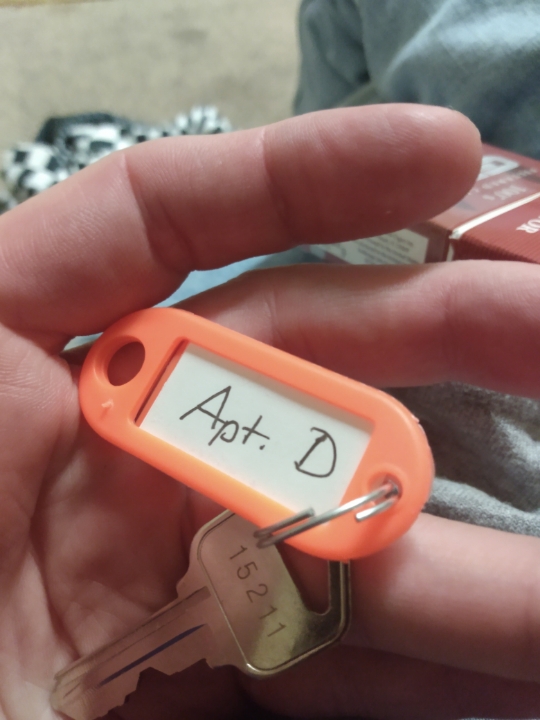 This is a picture from one of the Veteran's housed recently at HSH Homeless Ministry. As I looked at it I thought it says it all. This is our goal for everyone homeless that comes to us for help.
-Chris-
---
Please, listen below to KGGF's interview with Director Chris Mitchell and Veteran Tony Bray as they discuss Home Sweet Home's Homeless Ministry. Thank you KGGF for this interview as we inform the public about our history for the homeless and our new current Veterans housing.

---
In 2011, from a concept of helping the Community to address homelessness, "Home Sweet Home" and now "HSH Homeless Ministry, Inc ", has evolved from helping homeless men towards recovery, to accommodating men, women and children in four houses in Independence, Kansas. More than 670 homeless clients have been helped towards independent living over the years.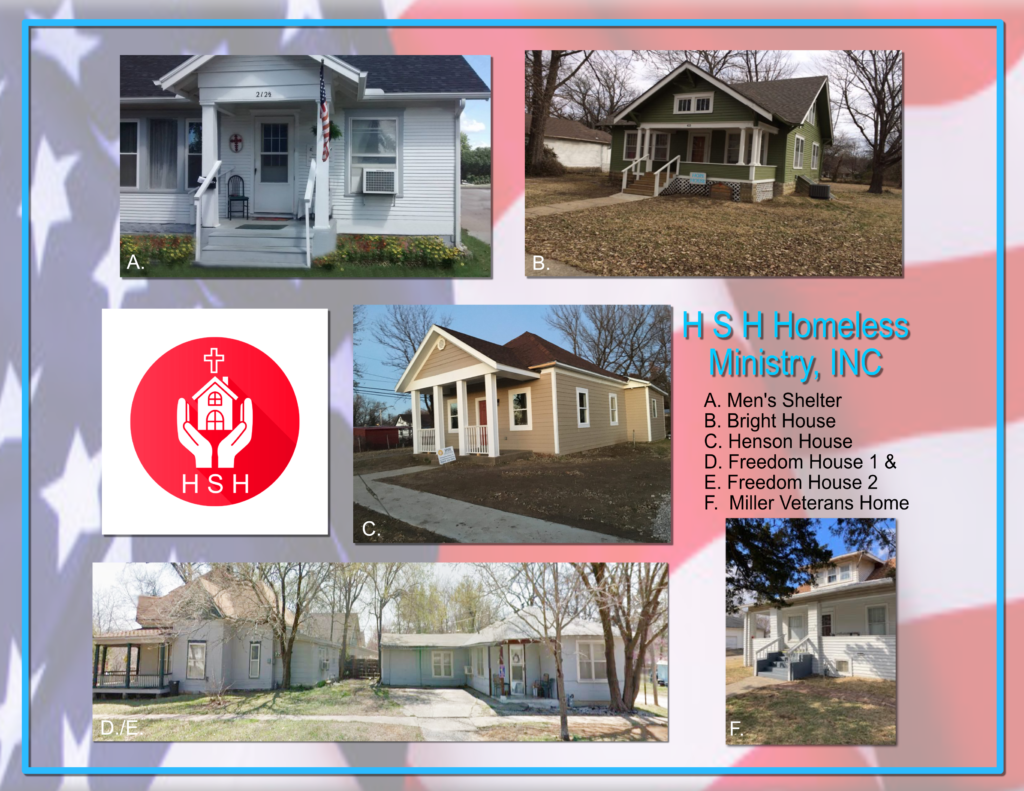 Mission
The mission of HSH Homeless Ministry, Inc – (HSH) – is to provide temporary housing for homeless men, women and children to help them attain an independent lifestyle through mentoring, guidance towards employment and professional assistance, if needed.
Focus
HSH is not an overnight accommodation, but focuses on rehabilitating one person at a time towards self -sustaining and independent living. Initially addressing homeless men, the focus has expanded to include homeless women with children, and current focus on homeless veterans.
Facilities (see pictures above)
One "Men's Shelter House" with eight beds; Bright House and Henson House, primarily for women with children or single women; and McBride House for program graduates that need additional mentoring while attempting full independent living. All of the houses, except Henson House, were donated but required modifications/repairs/upgrading. This was funded through separate fundraisers and volunteer work.
A separate apartment in the McBride house is currently targeted to accommodate homeless veterans. The upgrade/repair costs are estimated to be $13,400.
Our Miller Veteran's House is completed and total cost from start to finish was $58,742.92.
Clients
Total number of homeless clients served and successfully graduated were 123 in 2019 and 70 in 2020. Our Board made a conscious decision not to have more than two homeless men at a time in the men's shelter during the Covid pandemic. Overall, including HSH's predecessor organization, more than 670 homeless people have been helped since 2011 to restructure their lives towards independent living.
Budget and Use of Funds
Our expenses for 2020 were right at $50,000. We have only one (part time) employee; the Director. The remainder are volunteer workers. On a "per client" basis the cost are between $700 -$1,200 per successfully graduated client. This – we believe – is a hugely efficient use of funds when compared with usually published costs of homelessness abatement statistics. More details are in the "About Us" section.
Community Involvement and Outreach
The larger Independence City / Montgomery County / South East Kansas areas recognized in the early 2000s that there is a homeless problem not only in big cities, but also in rural areas (see "About Us"). The local community has been hugely supportive of HSH's effort to reduce homelessness not just on an overnight, but on a more permanent basis. The business community, Churches, Service Organizations, Community Chest, City and County offices, Momentum organization and Four County Mental Health have been major supporters of HSH's efforts.
Organization
HSH Homeless Ministry, Inc is a Kansas Corporation with a 501c3 status (see "About Us" for details). It is governed by a Board of Directors (currently 13 Board members) all from the community and from different walks of life (see "About Us"). The Board meets monthly, has a President, Vice President, Secretary, Treasurer as officers. The Director responds to the Board. HSH has Board approved Bylaws, various committees for governance, conflict of interest etc. Its financial statements are audited annually.
Funding
All funding is through grants, individual and corporate contributions. Physical donations include clothes, furnishings, food and real estate/houses. The organization has no commercial income.  Improvements of the facilities is accomplished through separate, targeted fundraisers. Newspaper publicity, TV interviews and presentations to the community as well as  rummage and other publicity/ "Hot Dogs in the Park" sales events are  being used extensively.      
Current Focus
HSH has had several homeless Veterans as clients over the years. We noticed, particularly most recently, that Veterans often require a more private setting for recovery. HSH has decided to address this issue by providing Veterans a specially dedicated facility. The initial apartment is for a single Veteran. This will be expanded, depending on needs. Primary planning attention is given to a safe operate heating/cooling system, an easily accessible modern and safe bathroom, and easy to operate and safe (all electric) heater and washer/dryer modules. Current cost estimate is $13,400. Several Community/Veteran organizations have indicated their support.
Outlook
Homelessness, like poverty will never go completely away. HSH is dedicated to continue its mission to address homelessness at the local level by focusing on "one person at a time". The success so far is very encouraging. Community support is steady as people realize a positive impact on City life. Employment is often a challenge, but many employers have made special allowance for recovering homeless people's special needs. A major challenge is to find affordable low rent housing for our graduating clients. HSH is working with city and County officials and others to address this issue.