Dear Partner,
In our work with homeless men, we noticed that homeless Veterans – as a group – often require special attention. A somewhat crowded setting, (like our homeless shelter for men with eight beds) tends to be an impediment to their progress towards recovery. Our aim is to foster and reestablish in each client the self confidence that is paramount for a self-sustaining lifestyle.
HSH Homeless Ministry, Inc. (HSH), is a targeted recovery program that addresses the needs of homeless people "one person at a time". HSH has served the Independence, Kansas community for more than ten years, initially addressing homeless men only, with one eight bed shelter building. Now, HSH has added another four buildings to accommodate homeless women and children. We currently have five buildings accommodating the homeless. (See website www.homelessministry.org)
One key element in recovery from homelessness is to provide a recovery environment that is positive. HSH has improved and upgraded all donated houses! Often, volunteers have painted the outside and interior to make the houses more appealing. Paint, very often is donated by local merchants. The majority of furnishings are donated, but frequently we purchase things – like new single bedding in particular – with significant discounts from a local furniture company.
HSH intends to address the plight of homeless Veterans by converting/upgrading one apartment in one of our homes and specifically reserve it for homeless Veterans. The intent is to create a positive and appealing living environment. The apartment repair/upgrade targets the bathroom/kitchen facilities in particular. There will be new skid resistant flooring, and the apartment will have an easy to operate, all-electric newly (donated) central heating and cooling unit. There will be a new electric washer/dryer unit, and a walk-in shower instead of the existing bathtub. The overall budget is $13,400.
Depending on "demand" we can convert an adjoining apartment also for homeless Veterans and their family. The new electric power breaker/electric heating and cooling provide for this extension.
PROJECT BUDGET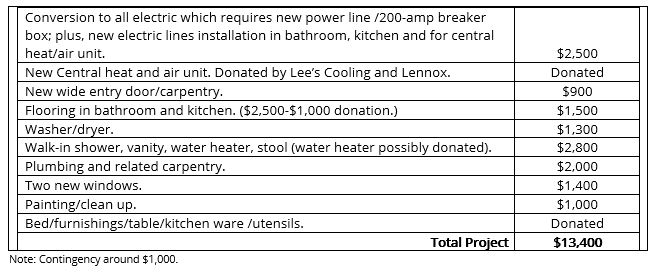 SPONSORS
Most supporting merchants and companies are local and the most frequent ones are the following:
Independence Daily Reporter – News Updates (Will update Veteran's Homeless Project)
Lees Cooling and Heating – Central Air Units
Woods Lumber – Bathroom Accessories and Paint
Sherwin Williams – Paint
Messengers Furniture – Bedding
Blankenship Electric
Davison Remodeling – William (Bill) Davison
Community National Bank – Financial
First Oak Bank – Oakes Families
HVG Resources Ltd. – Jon Viets VP Financial
Mercy Corps
Wilson Medical Center
CMIH – Dean Hayse President
Jeff and Leah (Miller) Mosley
Tom Gillman Carpentry
Note: All indications are that these sponsors will continue to support HSH's projects.
Thank You for Your Support,
HSH Team
Click "Download" button below for a PDF printable file of The Homeless Veterans Project